Volunteers wanted for the 2017 Steam Rally
Planning and running the annual Rally, which attracts some 2000 exhibitors and over 5000 visitors is a demanding and enjoyable task. We have many volunteers from throughout the railway, and beyond, who help in different ways and enjoy being part of this fun and friendly event, working as part of a great team. We do have some vacancies for extra help, so why not join us? Lots of information about volunteering on our Volunteers page.
Posted on 2 March 2017
Update for Steam Section exhibitors
We are relaunching our steam section for 2017, with a new Marshal and a new demonstration area. Invitations will be sent out by post on 28th February. So, please look out for your invite. If you are interested in exhibiting, and have not received an invitation, please drop an e mail to wsrarally@gmail.com
Posted on 27 February 2017
Entry Forms and Volunteering
Plans for the rally in August are going well. Entry forms are being sent out just now, but please be patient if you have not yet seen yours - the section marshals have to contact more than 800 exhibitors and traders so it can take some time! They do a brilliant job though and we thank them all.
If you would like to help us put on our magnificent show, do get in touch via the volunteering page. We welcome those who could support the section marshals; help prepare the rally site in the week before; ensure we keep visitors & exhibitors safe by marshalling traffic on site; and sell tickets and programmes at our entry gates.
We are a friendly and effective team and welcome new volunteers.
Posted on 13 February 2017
A message from the Rally Committee
The WSRA Rally Committee wish all our supporters a Merry Christmas and a Happy New Year.


Posted on 22 December 2016
Planning for the 2017 Rally
We are busy planning the 2017 Rally, and look forward to offering you an even better Rally than the successful 2016 event. There will be more news on the website soon.
In the meantime, we will be sending out entry forms to our regular exhibitors and traders in January. If we have your contact details, you will get an entry form. We welcome new applications: the website tells you how to join our mailing list.
There will be more updates and news in 2017.
Geoff Garfield
Rally Chairman
Posted on 18 October 2016
The Rally Chairman writes about the 2016 Rally...
We were delighted with the Rally weekend this year. The weather was kind to us, and our visitors came in record-breaking numbers.
We would like to offer our grateful thanks to our exhibitors, for their wonderful vintage vehicles and memorabilia; to our volunteers for their unfailing hard work and cheerfulness; and to our traders and contractors for their essential contributions. And, of course, to all our visitors who supported us, and enjoyed the Rally.
After a brief break, the organising committee will review all that was best in 2016, as well as things that could be improved, so as to plan an even better rally in 2017.
We look forward to seeing you again next year, on the 5th and 6th August 2017.
Geoff Garfield
Rally Chairman
Posted on 10 August 2016
All fair at the Steam Fayre
The Mayor of Taunton Deane, Vivienne Stock-Williams visited the Rally on the Sunday.


The Mayor of Taunton Deane, Vivienne Stock-Williams visited the Rally on the Sunday and seen here with Rally Committee member Di Charlton.
Thousands of visitors flocked to the Steam Fayre & Vintage Rally last weekend at Norton Fitzwarren. The sun shone and families enjoyed parades of beautifully engineered steam engines and hundreds of vintage vehicles. Popular attractions were heavy horses, full size and miniature military tanks, steam train rides and the trade stalls area. There was something for all the family including children's entertainments, many cooling local ales and our famous craft marquee. Some even braved the challenge of the pump trolley.
Back for a second visit was the Taunton Cider 'Octopus' tanker which evoked happy memories for many.
The show is an annual event organised entirely by volunteers to raise funds for the West Somerset Railway Association which supports our glorious local heritage railway.
Next year's show will be on Saturday 5th & Sunday 6th August - a date for your diary - don't miss it!
Posted on 9 August 2016
Cash only at the Gate...
STOP PRESS: We understand the credit card machines at the Steam Rally have gone down, probably due to a poor signal. So please note for those paying at the Gate it will be CASH ONLY until further notice. The Rally Team apologise for any inconvenience.
Posted on 6 August 2016
Online ticket facility closes soon
We wish to remind our visitors that the online ticket facility closes at 5pm on Friday 5 August.
Posted on 4 August 2016
Getting ready for the Rally...
Bar racking taking shape in the beer tent


Knit bombed platform and flowers at Norton Fitzwarren


Putting up the fairy lights in the beer tent

Pics by Rob Lindley
Posted on 4 August 2016
Getting ready for the Rally...

Pics by Val Jones
Posted on 2 August 2016
Shuttle train times

Here are the times of the free train that shuttles between Bishops Lydeard Station and the Rally at Norton Fitzwarren on 6 and 7 August 2016:
Departs Bishops Lydeard Station at 9.45am, 10.20am, 11am, 11.40am, 12.15pm, 1.50pm, 2.30pm, 3.05pm, 3.52pm and 4.45pm
Departs Norton Fitzwarren 10am, 10.40am, 11.15am, 11.55am, 1.25pm, 2.10pm, 2.45pm, 3.20pm, 4.10pm and 5pm
The journey takes just ten minutes.
Posted on 1 August 2016
Look and Listen

Here is the Rally ad on the back of a bus running now in Somerset for the final week before the event. Have you seen this? We also have an advertising campaign on Heart Radio 102.6FM starting tomorrow (30 July) for the next week. Listen out for us!
Posted on 29 July 2016
The Heritage Goods Train arrives at the Rally site

Pic by Rob Lindley.
Posted on 22 July 2016
WE ARE FULL...
All of the available space for exhibitors and traders for the 2016 Rally is now full, so we are unable to accept any more applications for this year. We will start planning for the 2017 Rally in January 2017
Posted on 18 July 2016
Busy preparing for the Rally...
Posted on 12 July 2016
Take a look at this!
The Rally Team have booked this space in Castle Bow, Taunton for the 2016 Rally banner. An excellent spot right in the middle of the busy town centre. Why not book your tickets online now, and get two days for the price of one.
Posted on 11 July 2016
Volunteer Application Form in Word format
Click here for the Volunteer Application Form
Posted on 4 July 2016
Rally publicity at Taunton's Somerfest
The Rally Team were busy in Taunton's town centre during the Somerfest event on 18 June 2016 handing out over 800 Rally leaflets. The pictures were taken in the early morning whilst setting up.
Posted on 20 June 2016
Volunteer Application Form
Click here for the Volunteer Application Form
Posted on 16 May 2016
Online tickets for 2016 Rally now available
Tickets for the 2016 event are now available to purchase online. This year we have moved to 'print-your-own' tickets. After purchase, just print the tickets and bring the paper copy along to the Rally gate in the day. A quick scan of the paper copy and once validated, the Rally awaits you. And remember, tickets purchased online are valid for both days of the Rally weekend. Why not take a look at the Tickets page. Day tickets can also be bought at the Rally gate.
Posted on 20 April 2016
Farewell to Ian and Wendy
The Rally Committee took time out from their March meeting to bid a fond farewell to Ian Jonas and Wendy Turner. Ian and Wendy have run the rally very successfully for the last two years but are now standing down due to health and family commitments. They leave a strong and enthusiastic team who welcome Geoff Garfield as the new Chairman; we are, literally, full steam ahead! If you would like to help us put on a cracking show this August why not take a look at our Volunteers page now.
Di and Richard Charlton, 16 March 2016
A further statement by the Rally Committee
The Steam Fayre & Vintage Vehicle Rally organising committee welcomes the outcome of the WSRA general meeting on Saturday 27th February, and looks forward to working with the new Association trustees and other members of the Railway family to deliver a successful Rally in August 2016. The annual Rally is a great introduction to the Association and the whole railway for our many visitors, as well as a major fund-raiser.
Geoff Garfield, Chairman, for the Rally Committee 29 February 2016
A statement by the Rally Committee
The WSRA Steam & Vintage Vehicle Rally Committee would like to add their support to the Reform Group in their call for an Extraordinary General Meeting of the West Somerset Railway Association. The Rally team fully supports the Coombes report and its recommendations and are disappointed the six trustees concerned have chosen not to resign from the board as a result. We are keen to see that the proposal of The Way Ahead can be agreed and implemented at the earliest opportunity to bring back a cohesive railway where all groups and organisations involved in this important heritage railway work together to preserve it, at its best, for future generations.
We had a very successful Rally in 2015 both financially and as an event that was enjoyed by many for which we have had much positive feedback and praise. It was managed wholly independently of the WSRA board. This success was due solely to the dedicated team of volunteers and its supporters and the trustees can therefore take no credit for the event although we do acknowledge that the WSRA financially underwrite the event.
Ian Jonas, WSRA Rally Chairman, on behalf of the WSRA Steam & Vintage Vehicle Rally Committee.
Posted by the WSRA Steam & Vintage Vehicle Rally Committee on 1 February 2016.
Holmes Halt is officially opened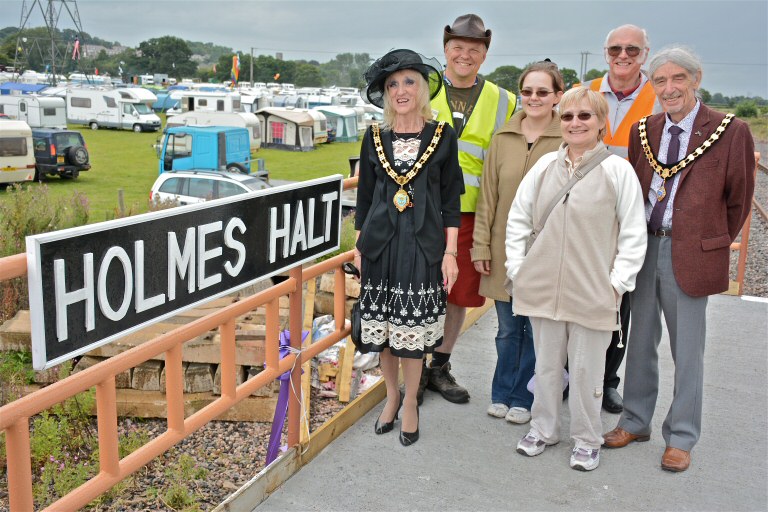 On Saturday 1 August 2015 Councillor Marcia Hill, Mayor of Taunton Deane, attended the Association's Steam Fayre & Vintage Rally at Norton Fitzwarren along with her consort, Julian. During her visit, the temporary platform erected adjacent to the Triangle to accommodate passengers joining the brake van specials running along the remaining section of the Barnstaple branch was named 'Holmes Halt' after former Association Chairman David Holmes, who passed away in 2014.
Speaking at the official opening, Councillor Hill reminded all to especially acknowledge the foresight and skills of a special few, in particular, David Holmes. "David was a member of the West Somerset Railway Association's Board for over ten years and was a much-respected Chairman between 2009 and 2011. He brought enormous commitment and energy to the role and in particular the vision for the flagship Norton Triangle project...He will be fondly remembered by many for his unstinting efforts in support of the Association and the West Somerset Railway."
David Holmes' widow, Anne, was then invited to cut the ceremonial ribbon to officially mark the opening of 'Holmes Halt', following which the guests were treated to a brake van ride hauled by the Somerset & Dorset Railway Trust's Peckett saddle tank Kilmersdon. The halt's running-in board was painted by regular Bishops Lydeard volunteer Harry Kirkland, well known both for his sign writing and for designing his popular range of transport-related weather vanes.
From the Trustees of the WSRA Posted by the Rally Committee on 19 August 2015.
The Trustees say 'Thank you!'
Thank you! The Steam Fayre itself was a great success and the Trustees would like to convey their sincere thanks to everyone involved.Whether it be planning the event throughout the twelve months prior to the Rally, setting up in the week before the event, volunteering during the weekend itself or assisting in the clearing up operation afterwards, all contributions are crucial and greatly appreciated.
From the Trustees of the WSRA Posted by the Rally Committee on 19 August 2015.
A successful 2015 Rally!
What a wonderful weekend! The sun shone and more than 6000 people visited the rally. Everyone seemed to enjoy themselves.
Well done to Chairman Ian Jonas and the rally committee, and a big 'thank you' to all volunteers, exhibitors and sponsors.
The rally committee are taking a well-earned break just now but will meet in September to start planning the 2016 rally.
In the meantime do take a look at some of the photographs in our 2015 gallery.
Posted by the Rally Committee on 12 August 2015.